began in February 2009
AKASH NATHANI FUTSAL ACADEMY (ANFA) began in February 2009 and quickly established itself as a leading learning centre. It all began when founder, Akash Nathani moved to Jakarta, after spending eight years overseas pursuing his career as a professional soccer player. Upon his return to his hometown Jakarta, he realized that opportunities and schools for soccer and futsal in Jakarta were scarce. He believed that with training, others too, could have the same opportunities that he had been presented with, outside of Indonesia. He then began to dream of one day providing a service and outlet for his beloved sport.
Akash decided to pursue this dream, and sent out a message to family and friends, informing them that he was beginning futsal classes. Equipped with his own skills and only 8 kids, he proceeded to set up weekly lessons at a neighborhood futsal court. It was then, that ANFA was born. The rest, as they say, is history.
Today, ANFA not only has weekly classes, but is also available as an extra-curricular activity in a number of schools in Jakarta.
Mission: ANFA has one, and only one mission – To ensure that children of ANFA are great athletes on the court, and people, off the court.
Vision: ANFA aims, and strives to become an established household name that supplies young talent to the National Futsal Team of Indonesia. With our skilled coaches and industry connections, we believe we can offer a shot at turning dreams into reality, for young and talented players.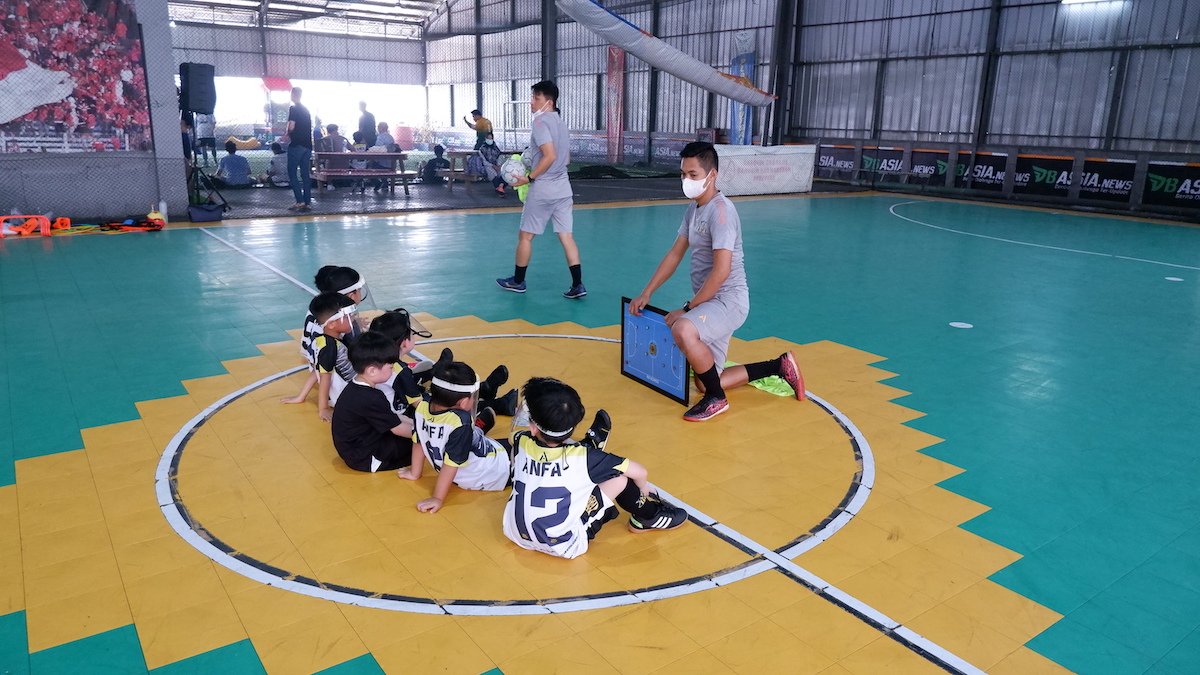 What is Futsal?
Futsal is an exciting, fast-paced small sided football game that is widely played across the world and is officially recognised by AFC, UEFA and FIFA.
The nature of the game places a large emphasis on technical skill and ability in situations of high pressure, and is subsequently an excellent breeding ground for football competencies that can be translated into the 11-a-side format of the game.
Futsal is a five-a-side game, normally played on a flat indoor pitch with hockey sized goals and a size 4 ball with a reduced bounce. It is played to touchlines and all players are free to enter the penalty area and play the ball over head-height. Games are 20 minutes per half, played to a stopping clock (similar to basketball) with time-outs permitted.
There are a number of differences to our traditional version of small sided football, but the dominant elements are the absence of rebound boards and amendments in the laws that encourage and foster skilful, creative play above the physical contact that tends to be a feature of English five-a-side.
The surface, ball and rules create an emphasis on improvisation, creativity and technique as well as ball control and passing in small spaces.
Many of the top world class footballers played Futsal in their youth and credit it with supporting their footballing development; players of the calibre of Pele, Zico, Ronaldinho, Kaka, Lionel Messi to name but a few of the South American legends all played and enjoyed Futsal. But Futsal has not just helped produce South American football stars, on the European stage Cristiano Ronaldo, Deco, Xavi, Fabregas amongst many others have played Futsal to develop their skills.